Amazing recipes to discover and learn each month.
Some of the recipes emerge from the latest generation of German chefs or Germans traditions. Each German region has its own specialty dishes plus some regional variations.
We will try to save your time, sharing some fast and easy-to-make recipes ideas to cook for lunch, dinner or breakfast.
Print Recipe
Bratwurst and Red Cabbage

Yum
Prick bratwurst in several places with a knife and place in a large skillet. Add oil and half of beer, then add water until liquid comes a little over halfway up sides of sausages. Bring to a simmer over medium heat. Cook, turning once, until just barely cooked through, 12–15 minutes. Increase heat to medium-high; cook until liquid is evaporated, 5–10 minutes. Roll sausages to edge of skillet and add onion to center. Cook, turning sausages often and stirring onion occasionally, until sausages are browned and onion is soft, 5–8 minutes. Transfer sausages to a plate. Add cabbage and beet to skillet; season with salt and pepper. Cook, stirring often, until cabbage is wilted, about 5 minutes. Add vinegar, brown sugar, allspice, and remaining beer. Cover; cook until tender, 20–25 minutes. Serve sausages with cabbage mixture, topped with horseradish.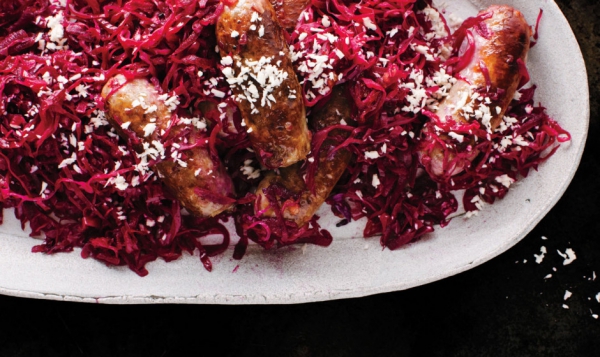 1

pound

bratwurst

uncured

2

tablespoon

olive oil

1

12 ounce

beer

bottle Pilsner or other lager

1

red onion

medium red onion, chopped

1/2

red cabbage

medium head of red cabbage, thinly sliced

1

red beet

medium red beet, peeled, coarsely grated

salt

pepper

freshly ground pepper

1/2

cup

apple cider vinegar

1

tablespoon

light brown sugar

1/4

teaspoon

allspice

ground

horseradish

Freshly grated horseradish (for serving)
1

pound

bratwurst

uncured

2

tablespoon

olive oil

1

12 ounce

beer

bottle Pilsner or other lager

1

red onion

medium red onion, chopped

1/2

red cabbage

medium head of red cabbage, thinly sliced

1

red beet

medium red beet, peeled, coarsely grated

salt

pepper

freshly ground pepper

1/2

cup

apple cider vinegar

1

tablespoon

light brown sugar

1/4

teaspoon

allspice

ground

horseradish

Freshly grated horseradish (for serving)
CLAIRE SAFFITZ | BON APPÉTIT | FEBRUARY 2015